Self-proclaimed relationship expert, Blessing Okoro, has given a reason for her celibacy as she reacts to gospel singer, Mercy Chinwo, and her husband, P astor Blessed from the wedding thanksgiving sermon.
Popular gospel singer Mercy Chinwo recently took to her Instagram page to share a sermon from her service wedding thanksgiving.

In the sermon , the cleric noted that many are carried away by the illusion of love and do not realize that love is enough to sustain a marriage.
Reacting, Blessing reposted the video on her page and noted that the points raised by the preacher in the sermon are also the reasons why she is still unmarried.
She agreed with the pastor that many have illusions about love, and that is why the majority of relationships and marriages today do not work out.
According to her, until she finds a man who shares the same school of thought on her love and marriage, she will remain singing the.
In his words,
"This message reminds me why I am still single and happy. Thanks to this pastor it's been a long time since a sermon by pastors moved my mind My awareness as a relationship therapist is what kept me grounded and focused Many of you have delusions about love which is why we are watching relationships and marriage deteriorate every day and became a joke.

Everyone says I don't like stress, I don't want work, you want life sweet, baby life, and i laugh so hard but they want marriage e t love.
Listen to me marriage and relationship is such hard work and intentional effort. I see so many babies getting married and I laugh so hard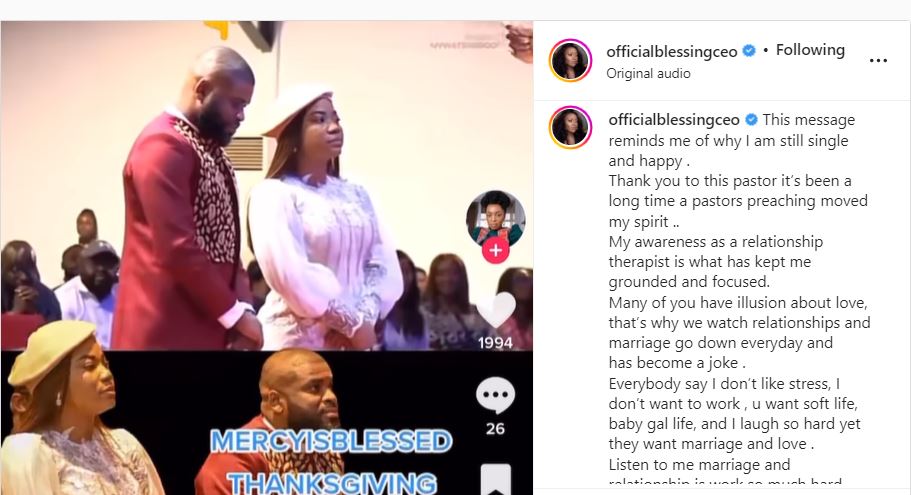 Marriage is hard, and until you realize how you feel for people is a lie you will tell to maintain what you have and not how you feel.
Feelings change every day with circumstances.
"Love is the way you CHOOSE to treat people and not how you FEEL about people.. (intentional and conscious effort) Until I find this man who shares the same school of thought with me, I'm so sorry my lover, I will remain celibate and productive instead of becoming an embarrassment to the institution of marriage again…
Marriage does not deceive me because I know so many things that happen behind closed doors. Marriage is one of the most beautiful things that God has created, but getting married badly is the most bitter thing that can happen to you. getting married is still noise for me because people who constantly ask these questions know nothing about marriage.
Watch the video below,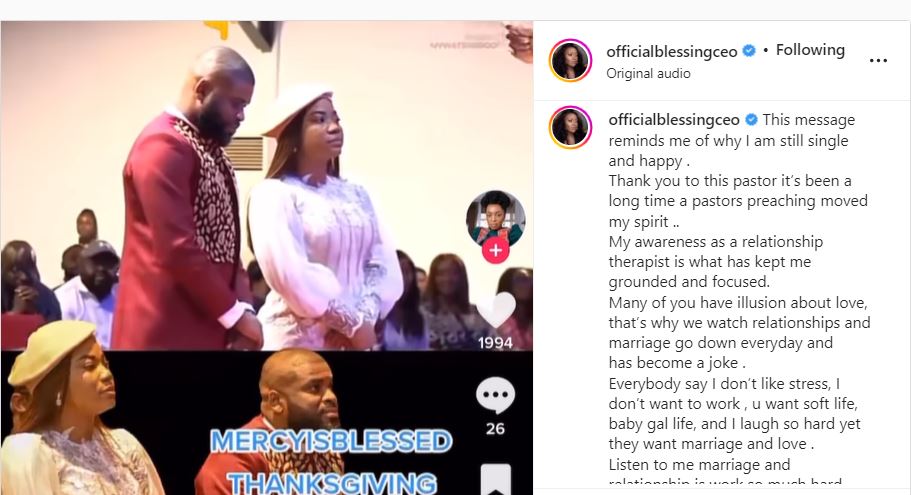 2022